Building Relationships, Trust, and School Culture as a Vice-Principal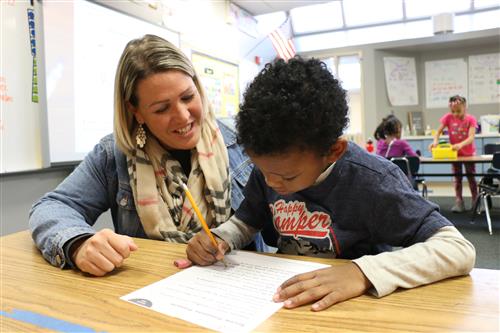 National Assistant Managers Week is celebrated April 4-8. Omaha Public Schools honors the many ways our vice principals support student and school success. We're #OPSProud to spotlight Wakonda Elementary Vice Principal Janeen Mann.
"Janeen is a great example of investing in relationships to create a safe and secure environment for children to learn," said Jennifer LeClair, director.
These relationships identify and address barriers to attendance for students and families, or support teacher growth through modeling and co-teaching.
Mann builds trust with students by focusing on the things that matter to them. Whether it's making sure she pronounces a student's name correctly or celebrating her success with a dance party. Focusing on the little things has a big impact. Strengthening relationships strengthened student culture.
"There has been a big change in the last five years. Students are focusing on more positive feedback because of our change in language and the relationships we build with them," Mann said. "Office referrals have gone down. Students are more welcoming to staff and guests. They take more ownership and are more proud of our school."
Mann is proud to welcome new families to Omaha Public Schools. She invests her time in putting families at ease by reviewing the school schedule and family calendar, giving a tour of the school and highlighting after-school opportunities. It's important to Mann that new families feel comfortable sending their children to Wakonda Elementary School and Omaha Public School.
"Building a good relationship with a family correlates with a student's attendance," Mann said. "As parents build trust with the school, student attendance improves."
LeClair told a story attesting to Mann's dedication. A student transferring from another school with a history of low attendance. When the student joined Wakonda, Mann formed a relationship with the mother and the student and helped the teacher find the best way to help the student. Mann made class visits, took breaks with the student, and remained in constant contact with the student's mother. Over time, students' behaviors changed and they were seen less frequently in the office. Instead, Mann now visits the student's classroom to celebrate all he learns.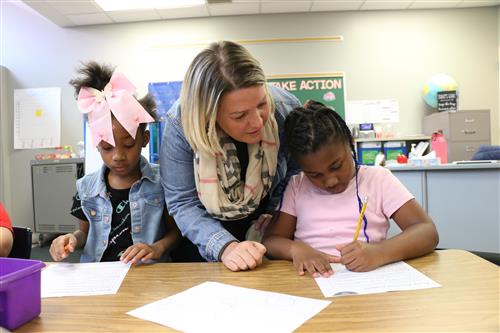 The trust she builds allows Mann to support parents in other areas of their lives to ensure students succeed at home and in school. She encourages staff to establish the same quality relationships with students and families.
"Our teachers know our children so well that they can tailor the content they provide to match the interests of the children so that they are eager to learn," Mann said. "Holding students to high expectations, believing in them and helping them meet expectations.
Mann has served in Omaha Public Schools in a variety of roles over the past fifteen years. From teaching at elementary and middle school level to directing as an educational coach and now assistant principal. She is an example for teachers by replacing in a classroom, spending time reading with students or helping educators expand their teaching toolbox.
During a recent pro development session, LeClair and Mann served as referees as the staff formed teams. Staff watched a film about introducing text structure to the classroom. They highlighted library books and how to incorporate them into the classroom. There was a half-time performance by Mann who rapped original lyrics about teaching. LeClair and Mann brought the learning to life, but significant professional learning was taking place.
Reflecting on the impact of the school's vice principal, LeClair summed up, "Janeen is instrumental in making everything happen in Wakonda. She makes work fun and is a role model for everyone.