Coimbatore: Protesters torch school buses after girl dies by suicide | Chennai News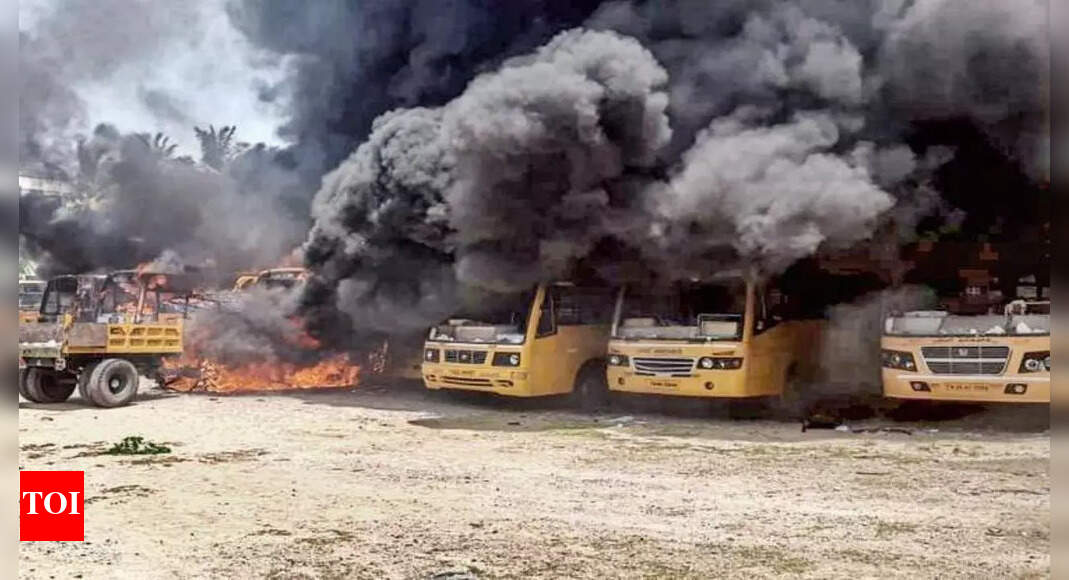 KALLAKURICHI: The protest against the alleged suicide of a class XII private school girl Kallakurichi The northern district of Tamil Nadu turned violent on Sunday as protesters forced their way into school premises and torched its buses and a police vehicle. They pelted police personnel with rocks, injuring 52 people including Deputy Inspector General (DIG) of Police M Pandian and Superintendent of Police Kallakurichi S Selvakumar. Kallakurichi District Collector PN Sridhar denied that police fired into the air twice to quell the violence and said only tear gas shells were used.
Chief Minister MK Stalin ordered the Minister of the Interior and the DGP to come to the scene. Considering the tense situation, the Kallakurichi District Administration has imposed CrPC Section 144 in Kallakurichi taluk and some other areas until July 31. Kallakurichi collector Sridhar said the situation had been brought under control and asked people not to indulge in violence.
Tamil Nadu Home Secretary K Phanindra Reddy and DGP C Sylendra Babu visited Kaniyamoor near Chinna Salem in Kallakurichi district on Sunday evening.
The team inspected the private school premises where protesters set fire to school buses and damaged school property. He told reporters that the case relating to the schoolgirl's death has been transferred to CB-CID. "Around 52 police officers were injured in the violence. We arrested the school correspondent Ravikumar, Secretary Shanthi and Principal Sivasankaran. No less than 70 people have been arrested for this violence," said Sylendra Babu.
The 17-year-old and two
students
were found dead in the hostel of a private senior secondary school in Kallakurichi district early Wednesday morning. The school management transferred the girl's body to Kallakurichi Medical College and Hospital for post-mortem examination and informed the police. Meanwhile, the girl's parents and relatives blocked the roads, alleging foul play in her death. They refused to receive his body. On Thursday, family members and relatives of the girl blocked the road near the government hospital. Police and tax officials appeased the protesters, who then dispersed. They again blocked the roads near the Kallakurichi bus station and the government hospital, but were dispersed by the police.
"We suspect that some fringe elements mixed in with the protesters and set the school buses and the police bus on fire. They rampaged through the school premises," Collector Sridhar said.
In an appeal to the protesters, the girl's parents asked them not to engage in violence. Sylendra Babu warned the students of stern action if they indulged in violence.