Eastern high school student's artwork on display at the United States Capitol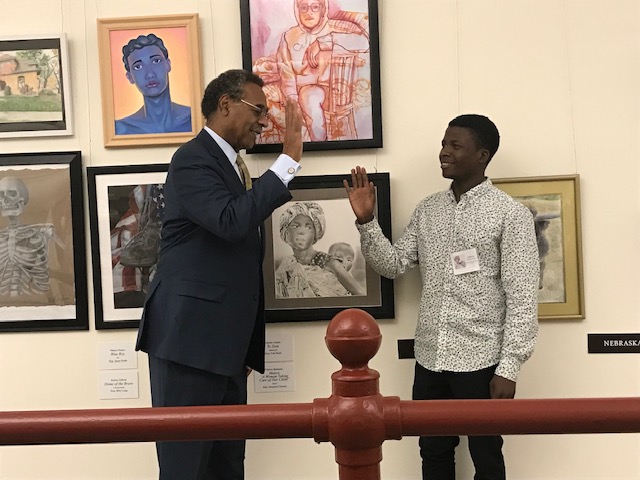 In the Cannon Tunnel, one of the underground passages used by members of Congress to move quickly through Capitol Hill, hangs a black-and-white portrait of a Congolese mother and child.
The artist, Basimise Fabrice, is a rising student from Lycée Est. Representative Emanuel Cleaver's staff selected Fabrice's artwork to represent Missouri's 5th District in the Congressional Art Contest. Fabrice and other student artists were honored at a reception in Washington, DC on Friday, June 24, 2022.
"I love art because it's in me," said Fabrice. "I can't leave him. It's a talent I was born with.
Fabrice traveled to DC with his art teacher, Catrina Dye. Southwest Airlines donated their airfare and Representative Cleaver's office provided hotel accommodations.
"Our first stop was the National Portrait Gallery, of course," Dye wrote in an email. "Fabrice quickly found his two favorite portraits. Then we walked to the White House.
They also visited the Smithsonian American Art Museum and the National Museum of African Art during their trip. Fabrice, who is Congolese, enjoys drawing and painting famous Africans. His portrait of Nelson Mandela was voted "Best in Show" at the first-ever KCPS Fine Arts Showcase.
In addition to representing KCPS in the Congressional Art Competition, Fabrice also attended the Missouri Fine Arts Academy, a two-week summer residential program for highly motivated student artists.
Thank you, Fabrice, for sharing your talents with KCPS!