Protesting Sewickley Academy students rally as school administrator speaks out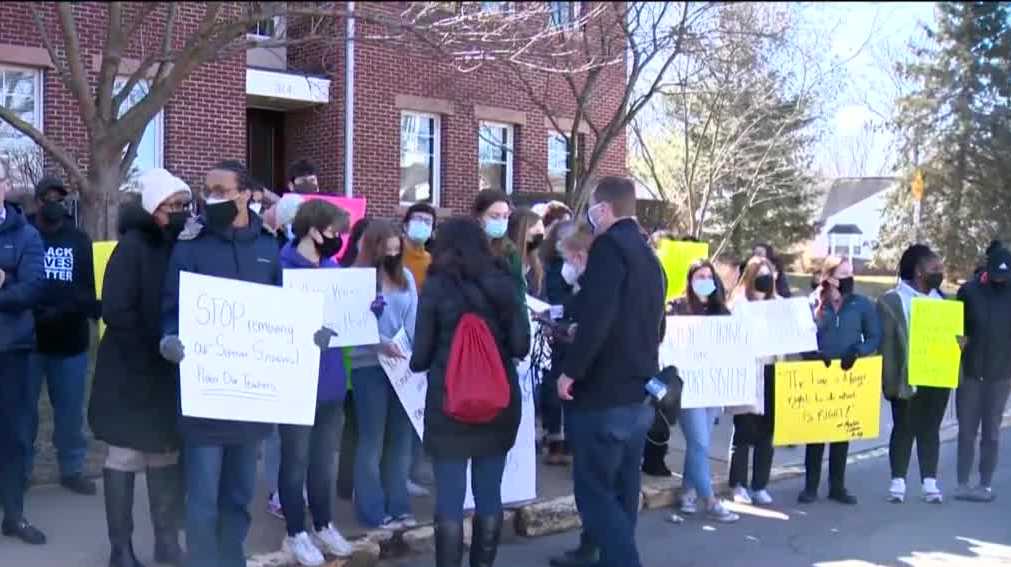 On Friday, several dozen protesting students gathered with placards just outside the grounds of Sewickley Academy to speak out against the lingering concerns. Watch the report: click on the video player above. "This administration has consistently sidelined progress toward diversity, equity, inclusion and social justice, created a school culture of fear, and refused to listen to the concerns of students and parents of color ever since. regime change over the summer," student Madeleine Wren student Madison Martin said that on Thursday, "we approached the administration peacefully and simply told them that we would wait to see Dr. Birtwell to hand over our petition and that as students we did not feel safe at this school." Students gathered on Friday to support the petition, but Sewickley Academy alleges the group that showed up at the administration offices on Thursday were disorderly – so much so that they called the police e. No student has been arrested or received citations. A teacher who supported the students was reportedly fired on the spot in front of those students on Thursday. School principal Ashley Birtwell said no staffing decisions had been made. to have these conversations," Birtwell said. She said she was not present but was told there were "very high speaking volumes, inappropriate language." A parent who was present Thursday said the opposite. "That's not true. Really. I am surprised that they make such statements about these children. You've seen them here today, they're polite, they speak well," mother Lisa Wren said. Student Madeleine Wren said the students "never used (inappropriate) language. We said we had asked for Dr. Birtwell, and told us that we would wait for Dr. Birtwell to arrive to deliver our petition. many of our calls for a reunion." Birtwell said Sewickley Academy will discuss the "aftermath" to reflect what it calls the "seriousness" of Thursday's events. "When you look around at all these students, we're all from different backgrounds as it matters to everyone studying at Sewickley Academy and it affects all students at Sewickley Academy," said student Madison Martin. There are further controversies over how things played out on Thursday .comforting a student who was grabbed by a member of the administration," said student Georgia Cox., the school principal at Sewickley Academy provided reporters with a student and a parent who were critical of the protesters. "They are causing chaos and disruption among students and teachers. Personally, I couldn't concentrate yesterday. My classmates were saying, "I don't want to participate in discussions today because I can't concentrate," student Naomi Wigley said. It's just very frustrating. I feel like a lot of families are sacrificing a lot to pay for their kids to come here."
EDGEWORTH, Pennsylvania —
On Friday, several dozen protesting students gathered with placards just outside the grounds of Sewickley Academy to speak out against lingering concerns there.
Watch the report: click on the video player above.
The rally was going to be a student walkout, but Sewickley Academy canceled high school classes for the day.
"This administration has consistently sidelined progress toward diversity, equity, inclusion and social justice, created a school culture of fear, and refused to listen to the concerns of students and parents of color ever since. diet change over the summer," student Madeleine Wren said.
Student Madison Martin said that on Thursday "we approached the administration peacefully and simply told them that we would wait to see Dr Birtwell to deliver our petition and that as students we did not feel safe in this school."
Students gathered in support of the petition on Friday, but Sewickley Academy says the group that turned up at the administration offices on Thursday was disorderly – so much so that they called the police.
No student has been arrested or summoned. A teacher who supported the students was reportedly fired on the spot in front of those students on Thursday.
School principal Ashley Birtwell said no staffing decisions had been made.
"We want to think about academic matters, social justice issues, we want to have these conversations. What we can't have is 25 to 30 people rushing into my office to have these conversations," he said. said Birtwell. She said she was not present but was told there was "a very high volume of speech, inappropriate language".
A parent who was present on Thursday said otherwise.
"That's not true. Really. I'm surprised they're making such statements about these kids. You saw them here today, they're polite, they're outspoken," mother Lisa Wren said. .
Student Madeleine Wren said the students "never used (inappropriate) language. We said we had asked for Dr Birtwell, and we said we would wait for Dr Birtwell to arrive to deliver our petition to him. ."
Student Anthony Wiles said administrators "tried to force us and our petition out of their office, saying Dr Birtwell would meet with us later as she repeatedly ignored many of our pleas to a meeting".
Birtwell said Sewickley Academy would discuss "consequences" to reflect what it calls the "seriousness" of Thursday's events.
"When you look around at all these students, we are all from different backgrounds because this matters to every student at Sewickley Academy and it affects every student at Sewickley Academy," said student Madison Martin.
There are other controversies over how things played out on Thursday.
"A teacher I love, and I know a lot of students, love was fired right in front of us for comforting a student who was grabbed by a member of the administration," said student Georgia Cox .
Birtwell said "no personnel decisions have been made to date, and we are currently reviewing this with the appropriate parties".
At the end of Birtwell's press conference, the headmaster of Sewickley Academy provided reporters with a pupil and a parent who were critical of the protesters.
"They cause chaos and disruption among students, teachers. Personally, I couldn't concentrate yesterday. My classmates were saying, 'I don't want to participate in discussions today because I can't concentrate. "", student Naomi Wigley mentioned.
Anna Wigley, a parent from Sewickley Academy, provided reporters to speak out against the protesters, said: "It's just very frustrating. I feel like a lot of families are sacrificing a lot to pay their children to come here ."