Some student behaviors tip the scales toward a more positive school culture — THE Journal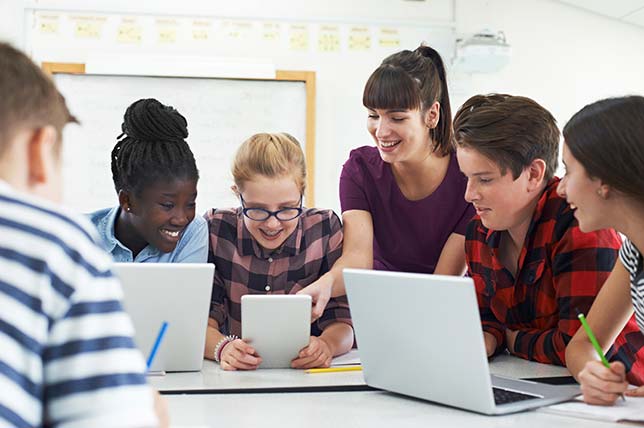 School culture
Report: Some student behaviors tip the balance toward a more positive school culture
By Dian Schaffhausen
08/01/18
Recently, a company that produces an app to help teachers track student behaviors released a report summarizing the 19 behaviors that seem most conducive to achieving a positive school culture.
A healthy school culture has been associated with decreased absenteeism and improvements in teacher engagement, motivation to learn, development of student identity, and other educational values. An important aspect of creating such a culture is recognizing positive behaviors that students display during the school day, such as showing pride in school or enthusiasm for collaboration. Yet in most schools, negative behavior is what gets the most attention, at least in documented form.
In the new report, published by Kickboard, education researchers and authors Tom Hierck and Kent Peterson suggested that a ratio of three positive emotions for every negative emotion acts as a "tipping point" between a "thriving or languishing" student. . Kickboard's mobile app helps educators capture data on all kinds of behaviors and feed that information into a calculation of "positivity scores" for classrooms and schools.
The work is based in part on a 2013 report by Barbara Fredrickson, a professor at the University of North Carolina who studies positive emotions and psychophysiology at the PEP Lab. Fredrickson explored the use of a ratio to determine how much positive emotions outweigh negative emotions. On the positive side, she wrote, "More is better, up to a point"; and similarly, on the negative side, "less is more, up to a point. Negativity can either promote healthy functioning or kill it."
The company analyzed 152 million behaviors captured in 645 schools over seven years (nearly 34,000 behaviors per school per year). The idea was to identify patterns that might exist between certain behaviors and positivity scores in classrooms. According to the researchers, schools recording more than 20% of Positive School Culture Inventory (PSCI) behaviors had a positivity rate between 67% and 90%. In contrast, schools recording less than 10% of PSCI student behaviors showed a range of positivity scores and much lower positivity ratios overall.
As Peterson explained, while "the benefits of a positive school culture have been widely documented, educators often have questions about the specific behaviors they should follow and reinforce." While all positive behaviors "are desirable," he added in a prepared statement, "some are more essential than others to creating a positive school culture."
The report shared the behaviors that appeared most frequently in districts and schools with the highest PSCI scores. Among them were these:
Show kindness;
Take pride in your work;
Demonstrate leadership;
Help others;
Use time wisely;
In preparation ;
love to learn; and
Make good choices.
"For years, many PBIS proponents have wanted to go beyond tracking disciplinary referrals to measure the success of their efforts, but there has been little research or guidance on which behaviors to focus on," said noted Hierck. "With the [PSCI] educators now have clear, data-driven information on positive steps to take to achieve their cultural goals."
The report is available upon registration on the Kickboard site.

Dian Schaffhauser is a former editor for educational publications at 1105 Media, THE Journal, Campus Technology and Spaces4Learning.